ICYMI: Axne Takes AOC Money And New NRCC Ad
When Cindy Axne is in Des Moines, she pretends to be a moderate. When she goes to Washington, D.C. however, she votes 100 percent of the time with Nancy Pelosi and is a "best friend" of the ultra-liberal "squad." Axne's closest allies - Reps. Alexandria Ocasio-Cortez (AOC), Ilhan Omar, Ayanna Pressley, Rashida Tlaib, and Cori Bush have led the charge in the House with Democrats to push unpopular policies such as defund the police, Medicare for All, and abolishing ICE. As Axne's campaign is flailing, her closest DC allies are coming to her rescue. 
Recent reports show Axne took $5,000 from AOC's Courage to Change PAC. This isn't the first time. Axne took another $5,000 from AOC last year and did a virtual fundraiser with Ayanna Pressley. 
"Axne's 'moderate' charade is over. She has been exposed. After taking money from AOC and voting with Joe Biden and Nancy Pelosi 100 percent of the time (more than AOC herself), it couldn't be clearer that Axne stands with her Democrat bosses over the people of IA-03," said Kollin Crompton, Republican Party of Iowa Communications Director.

Today, the NRCC released a new ad featuring Iowans criticizing Cindy Axne's sketchy stock trades.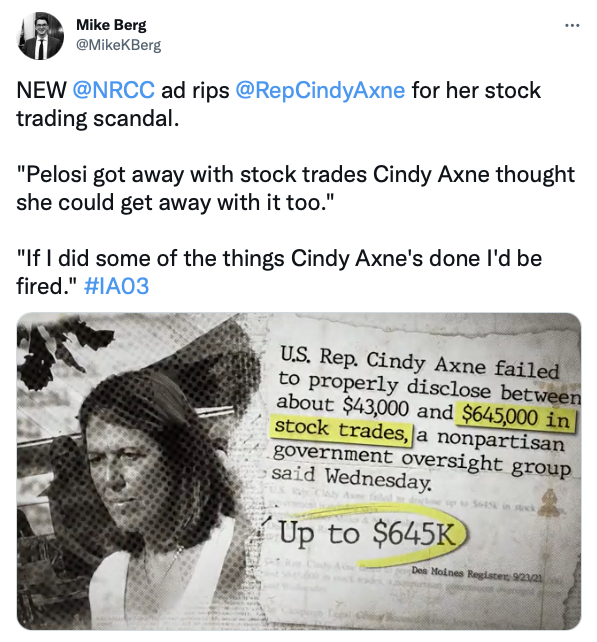 In the ad, Stu from Des Moines says, "Nancy Pelosi got away with stock trades. Cindy Axne thought she could get away with it too." Mary from Des Moines says, "If I did some of the things Cindy Axne has done, I'd be fired." 
"Cindy Axne thinks she is above the rest of us. She went to DC and became part of the swamp, worried about lining her own pockets with sketchy stock trades instead of focusing on how to help those she's supposed to represent," said Republican party of Iowa Communications Director Kollin Crompton. "If Iowans followed her lead, they would be fired from their jobs. Which is why they should fire Cindy Axne from hers." 
###
Share this post